Calpiners George Abraham and Ranjith Tharanadh Complete 10 Years in Calpine Group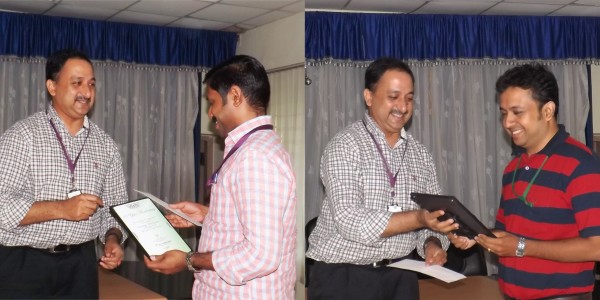 Ten years is a long time! It indeed is; particularly when it concerns a software professional's life at a particular organisation in these times where, the average worker stays at each of his or her jobs for only 4.4 years (US Bureau of Labour Statistics).
Employees sticking on with an organisation for long years may be much of a rarity for most organisations, but it is fairly common in Calpine.
Previous Friday was the day we Calpiners chose to mark the occasion of two senior Calpiners – George Abraham and Ranjith Tharanadh – completing 10 glorious years in Calpine.
They are two among those scores of wonderful gentlemen and ladies in Calpine, flying on whose competent wings we soared up to touch the sky. It was an occasion where we Calpiners demonstrated our deep-felt gratitude, respect and affection to those two doyens of Calpine.
From the moment we started planning for the event, our CEO Jijo John was clear on one thing – the event was to be planned secretly, without the watchful eyes of either George or Ranjith discerning it. Along with Jijo, we all just wanted to surprise both of them and with this in our minds the furtive wheel of planning was set into motion.
And then the day came, 28th of February 2014, Friday, a curious day in itself, for it is the only month in a year that ends neither on a 30th nor a 31st. The get-together started just like any other that we Calpiners are so used to attend. As always, the organisers were running around making sure that everything was in place and other Calpiners were sitting with great expectations. George and Ranjith too sat quite oblivious about what was about to commence.
Like in all suspense thrillers, the beginning of the event was all sombre and calm, setting up the tone and warming up with the minds of people to the incredible events that were to come later in the show. Meera Abraham, Manager HR, welcomed all to the event, the prizes of various events conducted were distributed, gifts for the new born babies of Calpiners were given to their parents and the new products in Calpine Store were introduced.
Thus when all Calpiners eased into the event after the usual turn of episodes of a typical Calpine get-together, Meera introduced the suspense in her distinctive solemn and graceful manner. However most Calpiners, including George and Ranjith, thought that to be only a passing reference until Meera called upon Deepthy Biju to elaborate on the subject, which gave all a hint that it could be the actual objective of the get-together.
Deepthy, who has rich experience in working in a team with George and Ranjith, spoke profusely about them – about their personalities, about their work ethics and about their knowledge. As is her wont, Deepthy emotively and engagingly told the tale of the two senior most Calpiners. She shared some interesting anecdotes about both and also explained why Ranjith is affectionately called as 'Bhai' by Calpiners and why he is the only 'authentic' Bhai in the whole of Calpine, much to the amusement of the assembled Calpiners. Later she invited Sunil Chacko and Nisanth PK, who have many years of experience working with George and Ranjith respectively, to share their experience working with each of them. Sunil and Nisanth shared their personal experiences working with George and Ranjith, which for many was like opening a new window towards understanding the many personality traits of the famous duo.
Jijo took the stage then and spoke about the great influence that George and Ranjith have had on the progress and success of Calpine. His words were full of his admiration for the great work that the two gentlemen have been doing for Calpine Group. He spoke of their dedication to work and their enormous knowledge on their respective technologies. George and Ranjith, yet to come out of the pleasant shock of this surprise, appeared visibly moved.
Jijo then invited George and Ranjith to the stage and gave them mementos as a token of appreciation. Calpiners gave their approbation and their munificent praise for the duo with a boisterous applause.
The much awaited moment of the day came when George and Ranjith spoke about their individual experiences as Calpiners. There was profound silence when both of them spoke.
George articulated his emotions and explained how he started young in Calpine and how he grew together with Calpine. He also said that Calpine has always been a family to him and said that without the support of Calpine and Calpiners he wouldn't have grown remarkably well as an individual and as a professional. He spoke about how overwhelming the occasion was and how difficult he was finding it to speak as he was getting overpowered by emotions.
Ranjith Bhai thanked Calpiners for the magnificent surprise he was given and seemed impressed with the whole idea and effort put in by all to give him and George the surprise. His words of wisdom for the youngsters in Calpine were to try and find perfection in every work that they do. He also spoke about the humble beginnings of Calpine and about his initial experiences as a Calpiner.
As a glowing tribute to the services rendered by them, a photo session that elucidated the lives and times of George and Ranjith in Calpine was also arranged. It gave a rare opportunity to all to reminisce the many good experiences that one had as a Calpiner. Elaborate arrangements were made for high tea at the end of the event.
All in all, it was an evening to remember – to the two gentlemen who completed 10 years in Calpine and to all those who had the privilege of being in there, witnessing various episodes of the event unfolding.
Author: Aravind Ramesh