Winners of Valentine's Day competitions @ Calpine
We all are lovers, aren't we?
So on Valentine's Day we challenged Calpiners with some very interesting competitions to mark the occasion.
Letter Writing
To begin with we had the letter writing competition, where we asked Calpiners to be creative in their letter writing and write love letters to their beloved ones. We challenged them to be poetic, romantic as well as imaginative in their writing. The competition saw great participation, which resulted in some of the most beautiful love letters ever written.
Jobin T is the winner of the competition.
In his letter Jobin imagines himself to be a lover in the 1960s and writes a letter to his beloved, obviously the setting being our land some 50 years back.
Congrats Jobin. Now let's read and enjoy the prize winning letter.
First Prize Winning Letter – Jobin T
Firoz PP is the runner-up. Congrats Firoz. Here is Firoz's letter.
Second Prize Winning Letter – Firoz PP
Couple Gifting Challenge
For this challenge we asked Calpiners to surprise their beloved ones with a thoughtful gift, along with a one line description on why they chose that particular gift. A selfie with their beloved was also requested to add more personal touch to it.
Baby John has bagged the first prize. His gift to his beloved was a pair of eyeglasses and the reason why he chose the gift was "for seeing the loved ones clearer."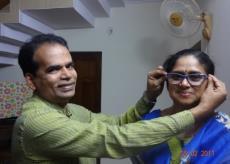 A very considerate gift indeed. Congrats Baby John.
Sumith SP and Sreedevi Vinod win consolation prizes as well.
Dubsmash competition
To add some fun into the celebrations we had the Dubsmash contest. Some funny filmy dialogues were sent to Calpiners; they were asked to record the Dubsmash along with their beloved.
Deepa Sasi is the winner of the contest. Along with her husband, Deepa has come up with a brilliant Dubsmash video of one of the most famous dialogues in Malayalam films. See the video and have fun.
Dubsmash video winner – Deepa Sasi
Once again congratulations to all the winners.