Calpine bursts into pre-quarters of IFT 2018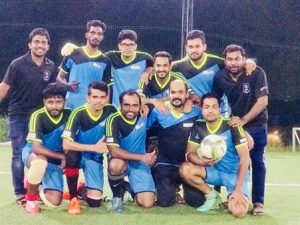 You aren't Calpiner enough if you haven't heard yet that Calpine has reached the pre-quarters of Infopark Football Tournament (IFT) 2018. And if you're among those who haven't even heard of IFT till now, then alas! we have given up on you.
Like the mythological phoenix that rose from the ashes, footballers of Calpine dusted off the disappointment of a loss and a draw in the first weekend of IFT and played magnificent football to beat Naico and Wipro on two consecutive days last weekend. By virtue of such a brilliant performance we have burst into the knockout stages of the tournament.
Put into what could be called the death group consisting of some of the strong football teams in Infopark, Calpine was not given a lot of chance by many pundits. Our performance in the first weekend was anything but inspiring. A loss against UST and a tame draw against Fingent did not deter our players. Braving all odds and overcoming the general perception, our football stars took out their best game and defeated Naico and a very strong Wipro in the second weekend. Emmanuval emerged as the Hero of the Match in both contests.
When ace strikers like Emmanuval, Vineeth and Muneer spend their game time busy in the business of scoring goals, defender Ben and goalkeeper Gopan revel on denying the opposition the pleasure of goal scoring. And if anyone of them gets tired because of the workload, then we have equally skilful men as substitutes in Linto, Siva, Mithun, Naveen and Fazil. As if that is not enough, we also have Baji and Rishi on the sidelines to jump into the fray in any emergency.
Changes made in the strategic game plan have played a major role in the revival of our fortunes in the tournament. Firoz and Binish, as Manager and Assistant Manager respectively, are the leading forces behind the tactical and strategic planning of playmaking. Their careful reading of the game, of our team and the opposition, has contributed a lot to our success.
Now that we have reached the knockout stages, matches are going to get tougher. However our team is in great form and we are completely confident that our team will do its best. As Calpiners the onus is on us to motivate and support our team, so that they emerge as the champions of IFT 2018 and bring home the trophy to Calpine.
So let's cheer for the team. Go Calpine, Go!!!