Calpine women's team clinches third place in IWCT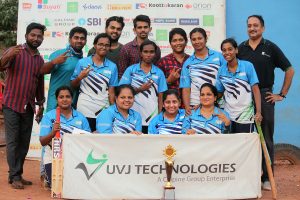 With a remarkable win in the loser's final, Calpine women's team clinched the third place in Infopark Women's Cricket Tournament. Had IWCT been the Olympics, the third place would have meant winning the bronze medal. And the fact that we defeated the champions of last year, Wipro, is like adding icing to the cake.
On winning the toss Wipro sent Calpine to bat. Greeshma and Linda opened the innings for Calpine. In the first over itself Greeshma made her intentions clear with 2 fours and a six, hitting Sreeja, the star player of Wipro. In the second over too Greeshma played well hitting a four. Linda gave her good company by scoring singles and doubles. In the third over there were two unfortunate run outs where the openers were sent back by the bowling team. Litty and Varsha partnered in the middle to push the scoring further. While Litty hit 2 fours, Varsha chipped in with a boundary in the last ball, taking the final score to 50 runs for 2 wickets in 5 overs.
Calpine started off well as Linda sent Wipro's opener Neethu into the hands of Jolly at square leg with the very first ball of the innings. Though the other opener Sivaranjini hit her for three consecutive fours, Linda had the last laugh as the batter was caught by Greeshma at mid wicket in the final ball of the first over. Flawless catching and brilliant fielding by Calpine made it difficult for Wipro to score freely. In the last over Calpine had to defend 13 runs to win the match. Though the batter Poovitha hit a six in the penultimate ball of the innings, Vidya kept herself cool and bowled the final ball, which allowed Wipro only a single. Thus Calpine won the nail-biting match by 5 runs. While Linda got 2 wickets, Litty and Vidya scalped one each.
Litty was adjudged Player of the Match for her all-round performance.